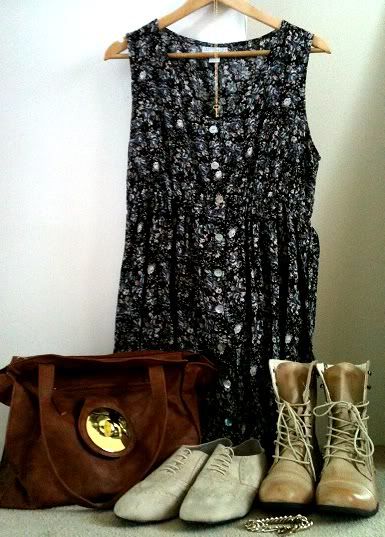 Since moving to Sydney with all my winter clothes – jackets, scarves, long pants, socks and mittens – I have found the weather to be quite HOT. Well, not hot, but Sydney is definitely not as cold as where I came from. I could almost be walking around in shorts and tees having people think I'm crazy, but I'm trying to adapt to the weather here in the most appropriate way possible.
As winter clothes are useless to me now, I've been preparing for spring. A cute floral dress can be worn alone, paired up with tights, a cardi or a jacket. I have a couple in my wardrobe now and I think I'll be wearing them a lot.
<– Just a few things I bought today. The dress is from Cotton On, the shoes Rubi Shoes, and the bag on sale at Sportsgirl.
WANT LIST
–Sportsgirl heart watch
–Floral shorts
–A volunteer spot at RSFF
–Utility pants
–Headscarf
–A new job
–Shield ring
–Cream brogues (done)
–Teen Vogue Handbook (on its way!)
–A caramel latte